Description
This colorful kids drawing stencils set from Art with Smile encourages your child's unbridled artistic expression!
But imagination isn't all this kids travel art kit promotes – it fosters intellectual development as well!
Through focused stenciling and creative play, children's knowledge of colors, shapes, numbers, and letters grow.
Their fine motor skills will be sharpened, too.
When you give your child stencils, you're giving them the tools they need for a bright future.
● Carry Case
● 14 Stencil Templates
● 22 Paper Sheets
● 14 Colored Pencils
● Pencil Sharpener
● 2 Stability Clips
Put a smile on your child's face today

Art with Smile is proud to provide the stencils kids love and parents (and grandparents!) trust. We know you'll love gifting our stencil sets for kids as much as the young artists in your life will love receiving them! Surprise your child or grandchild with the fun and artsy travel toy to keep kids entertained, anywhere! They'll be tracing and creating in no time.
Flexible Snap-Proof Stencils

Fill every corner of the paper with detailed shapes and designs, without any cracking or snapping of the stencils! With 14 themes and 280+ traceable images, the fun never ends!
● Letters & Numbers
● Geometric Shapes
● Dinosaurs
● Princesses
● Butterflies & Flowers
● Space
● Christmas
● Ships ● Vehicles
● Planes & Helicopters
● Wild Animals
● Sea Animals
● Jungle Animals
● Horses & Cats
Stencils, pencils, & paper galore!

Their imagination is only the beginning.
No mess, no stress

more dumping out the arts & crafts box just to find what you need! Your durable kids art kit stores all the supplies your child needs, neatly and in sight, with organizational pockets to keep pens and pencils in place. There's even enough room to stash all the masterpieces your mini Picasso creates!
Bust boredom without turning to a touchscreen!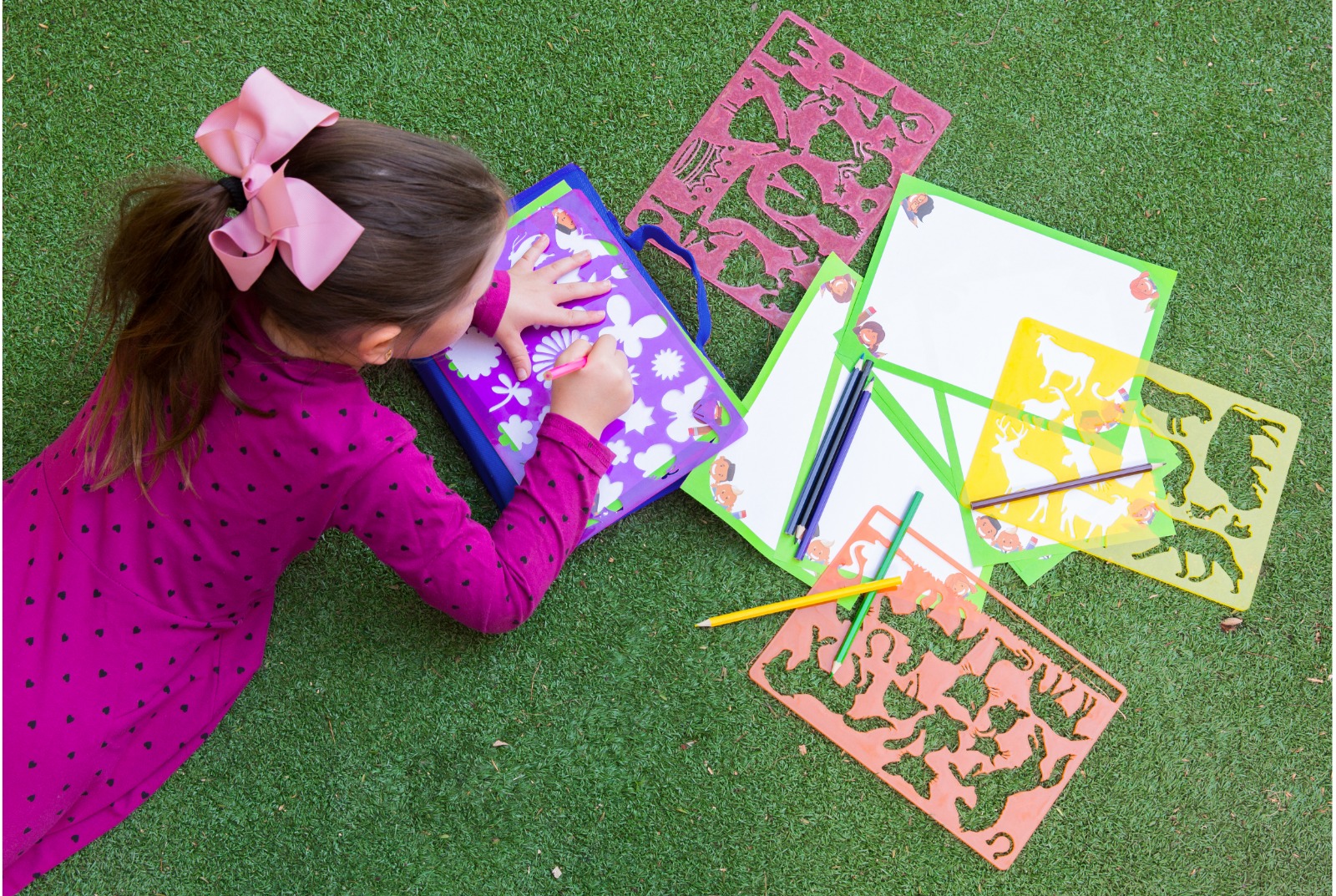 From brain to heart to hand, art keeps kids engaged and helps them grow. With colored pencils and bordered paper for sketching, along with double stability clips that prevent slip-ups, every color of the rainbow and MORE is at your child's fingertips!