Description
Let Little Imaginations Soar When You Gift Art with Smile!
Some kids' toys are all fun and games, but that's sometimes their only benefit.
Art with Smile's large sticker books and activity kits put the fun in learning!
As kids draw, trace, color, and create, they learn all about the alphabet, numbers, colors, and even landscapes and animals—all while expressing themselves creatively.
The Fun Activity Kit is more than just your typical sticker activity pad!
IT COMES WITH:
● 60-Page Activity Book with 15 pages of Oh-So-Fun Scratcher Paper
● 400+ Stickers
● 8 Colored Pencils and 1 Pen
● 1 Pencil Sharpener
● 2 Wooden Styluses
● 1 Stencil of Numbers and Letters with Ruler
● All-in-1 Organizing Case

Schoolhouse or Home!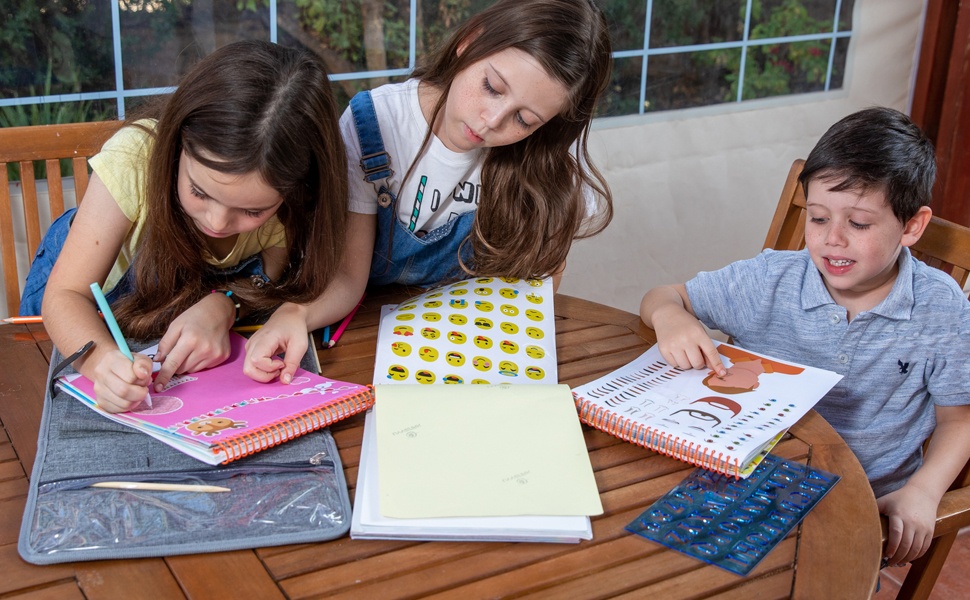 Searching for supplies for your classroom? If you're a teacher, nanny, or caretaker, keep those energetic little ones busy learning with the coloring sticker pads for boys and girls.
Art in Motion
Even when kids aren't at home, the learning and fun don't have to stop. Whether you're traveling or going to Grandma's, you can still bring the craft supplies kids love! Simply pack them up in their carrying case, then easily take them with you no matter where you go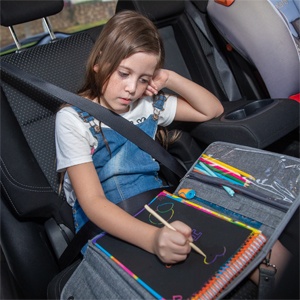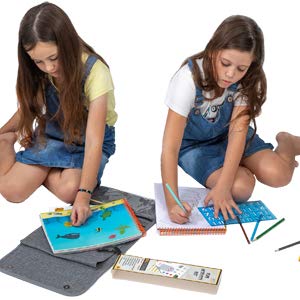 Creativity by the Book
The Quality Kit
Quality is the name of the game for Art with Smile. With the Fun Activity Kit, you can organize the create-a-face sticker book and supplies with confidence in its high-quality cloth case. Plus, the stencil is washable, durable, and designed for hours of play!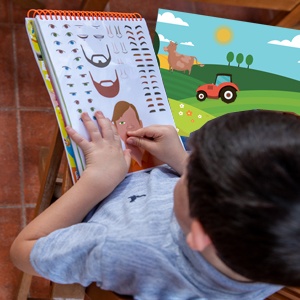 Kids can enjoy 7 unique activities
all bound in 1 book!
● Create different faces on 5 pages with reusable sticker pads for kids!
● Learn the lay of the land with 3 pages of landscapes + 3 pages of reusable landscape-themed stickers!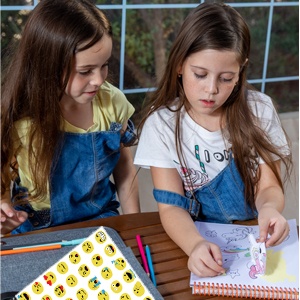 ● Stick it to learning with 4 pages of colorful stickers, including emojis, animals, letters, numbers, and more!
● Kids can fashion their own stickers with 4 pages of stickers they can color on!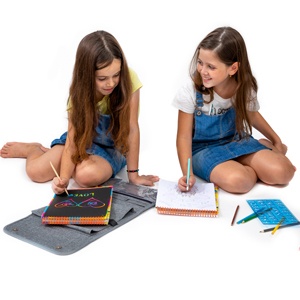 ● There's nothing like 15 pages of good, old-fashioned coloring book.
● Improve handwriting and writing skills on the 11 bordered pages for letters and sticker decorating!
● Scratch the surface of creativity with 15 pages of rainbow-colored scratch-off paper + 2 wooden scratchers!